01 Pool Party Puzzler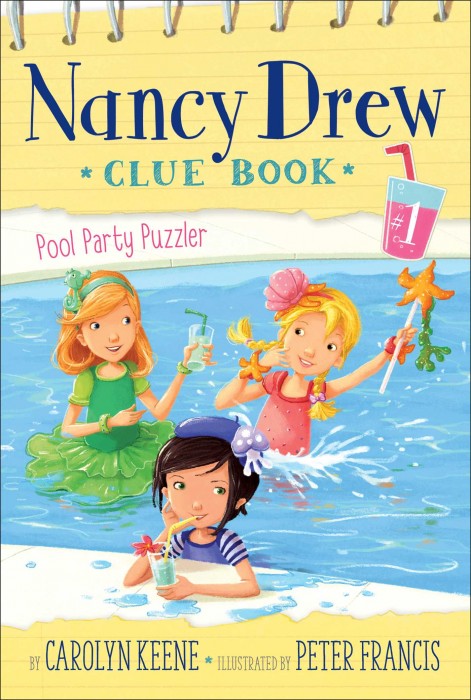 Help Nancy and her friends find out who's causing a major pool party problem in this first book in an all-new, interactive Nancy Drew chapter book series. Includes space for readers to jot down their own ideas and solutions to the case!
Snooty Deidre Shannon writes in her blog "Dishing with Deidre" that since eight is half of sixteen, she's entitled to a Super Sweet Half-Sixteen party this year! And since the Shannons have a pool, she's decided to make mermaids her theme. Nancy, Bess, and George are invited to the big bash, where all party guests must dress in under-the-sea-themed costumes.
For her grand entrance, Deidre dresses as a mermaid and is carried out on a giant half-shell by six teenage "sea creatures." The garden boasts hedges clipped into the shapes of various types of ocean life. Deidre's father even booked "Queen Mermaid Marissa" to perform in their pool—fin and all.
But when a squirmy snake is found swimming in the pool too, Queen Marissa leaves in a huff! Who would sabotage the mermaid pool performance? Nancy, Bess, and George intend to find out!
Buy It at:
Amazon
Nancy Drew Clue Book | Report This Post |