03 A Star Witness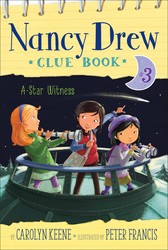 When a famous telescope goes missing at the planetarium, Nancy and her friends must zoom in on the culprit in the third book in an all-new, interactive Nancy Drew chapter book mystery series. Includes space for readers to jot down their own ideas and solutions to the case!
As the newest member of the River Heights Astronomy Club, George brings Nancy and Bess on a special field trip to the city's high-tech planetarium. There they meet famous astronomer Dr. Winston Arnot, learn about the planets and the stars, and even get to see an awesome planetarium show.
After dinner, they're supposed to meet on the museum's roof to gaze at the night sky using the Starship 5000, one of the world's most powerful telescopes. But when they arrive they discover the famous telescope has been stolen! Can Nancy and her friends solve the case before Dr. Arnot becomes the main suspect?
Buy It at:
Amazon
Nancy Drew Clue Book | Report This Post |